La Escandella Collection - Visum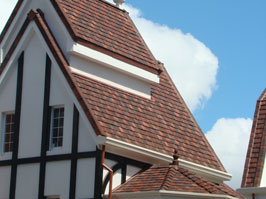 A new era in roofing products has arrived with the Visum tile from Bristile Roofing. Featuring a truly revolutionary interlocking design, the Visum has been designed to replicate smaller slate and terracotta tiles.
Introduced with a 20 year patent, the Visum tile provides an affordable alternative for those desiring a shingle roof. Industry leading technology enables each tiles to be colour individually with realistic pitting on the tiles surface for authenticity. Featuring a slim 9mm nose the Visum achieves ultra flat laying for the ultimate shingle and slate appearance.