Concrete Roof Tiles - Prestige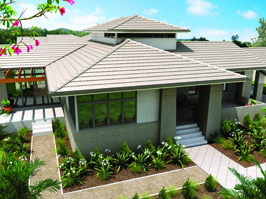 For a defining touch of class.
The Prestige range captures the finesse and style of contemporary living with a sleek, flat tile profile.  Through understated simplicity the Prestige tiles captures the eye and the imagination, creating a point of difference from traditional roofing materials.
The Prestige is a premium product that provides an exciting new option for creative home builders seeking a touch of class to complement prestigious projects.
Extra costs may apply to colour through tiles.
Concrete tiles are Australia's most popular roofing material. Homebuyers appreciate their beauty and durability and the diverse range of colours and profiles. Bristile Roofing uses only the best quality oxides to ensure long lasting and vibrant colours.